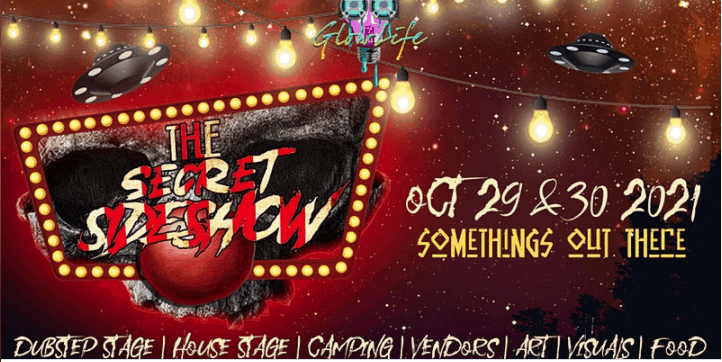 Follow the event page on Facebook The Secret Sideshow 2021 to stay connected!
Hardcopy tickets are available through DJs and promoters without fees and tax
Everyone must have a ticket and camping pass to camp . you cant just buy a camping pass and come to the show
only 400 tickets will be sold and will sell out! Only 100 tickets will be available online! The rest will be Hardcopies available through promoters and DJs. Don't miss out!
The Secret Sideshow is a 2 day Dubstep/riddim festival with Sideshows, booths, vendors, food, camping, loud music, lasers, visuals, Art, fire and more!
If u want to camp make sure to purchase a camping pass!
2 stages this year mainstage is Dubstep and Riddim with a dark circus theme.
And side stage is House music with an alien vibe.
Were bringing you 2 days of Florida producers and Djs spinning headbanging Dubstep, Riddim, Trap, House all the way down to lofi, future and weird bass.
Get ready for a vibe you will never forget.
Meet friends and Family you never knew you had!
Masks and hand sanitizer stations will be available. This is a limited capacity so everyone will have lots of personal space to social distance.
We do have food and drink vendors! But
It is a b.y.o.b event we do not sell liquor.
Ids will be checked we do not tolerate underage drinking, drugs or violence so leave it at home!
Address comes out in October through email, event page, DJs and promoters. It is in Sebring FL
—————More Things to know——-
BUY YOUR TICKETS EARLY TO SAVE MONEY!!!!
18 & up event.
No animals or pets! No service dogs sorry private property owners rules!
You can bring tents, canopies, coolers, chairs and field blankets.
You can bring led poi, gloves, glowsticks, rave toys, masks, led costumes and even professional cameras!
You can even bring your grandma!
Gates will open at 3 Friday
Music will start at 4
first official lineup dj starts at 5
Saturday music will start at Noon and first official lineup dj will be at 4.
Camp spots are first come first serve.
Costumes encouraged.
No weapons.
Clean your trash please respect the property its exclusive to us twice a year we don't want to lose this!