Sebring Area GeoTour: Florida's Hidden Gem
Geocaching is a free, outdoor treasure hunt. Explore the Sebring area and discover the hidden gems as you locate each cache.
A GeoTour is a series of geocaches that are designed to bring geocachers to a specific location and provides a "tour" of the area through geocaching. The caches often have a specific theme and many also have historical or location-related significance. GeoTours offer a reward, which may be a geocoin, wooden nickel, or similar item, for completing all or part of the tour. The geocacher will usually provide proof on a "passport" document with a list of codes or stamps found inside the geocaches.
Through this GeoTour, discover the Sebring area's unique history, vast outdoor adventures, unusual culinary delights, and charming small towns. Let your GPS or smartphone guide you on this GeoTour's four fun GeoTrails: Ranch & Harvest, Parks & Recreation, Historic, and Art & Culture. Visitors love caching at cattle ranches and citrus groves, museums and historical places, a variety of parks, and numerous arts and culture areas. As you log your GeoTour caches, spend a few days finding other caches placed throughout the beautiful area. While geocaching here, you will be guided through Sebring, as well as Avon Park, Lake Placid, Lorida, and Venus.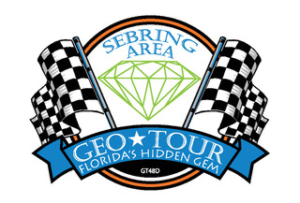 Download your GeoTour passport and come explore the Sebring area! Get a code word from numerous geocaches, Adventure Labs, and posters along the GeoTour, and log them onto your passport for a free Sebring Area GeoTour trackable coin.
 Click here for details or email GeoTour@highlandsfl.gov.
Download The Centennial GeoTrail passport today and join in the fun!
How It Works
Visit Geocaching.com to register a username
(Basic membership is free.)
Download a geocaching app to your smartphone and find the Sebring Area GeoTour
(or download the coordinates in a GPS device from geocaching.com)
Travel throughout the Sebring area, including Avon Park, Lake Placid, Lorida, and Venus, to locate the hidden caches.
When you find a cache, sign the log, take a sticker game piece, and affix to your game sheet
Record your find using the Geocaching app
After locating the specified number of caches, posters, and Adventure Labs in the GeoTour Passport, submit your completed passport game sheet to Visit Sebring to receive your official geocoin. Mail to: Visit Sebring, 501 S. Commerce Avenue, Sebring, FL 33870 or email to rfultz@highlandsfl.gov
Frequently Asked Questions