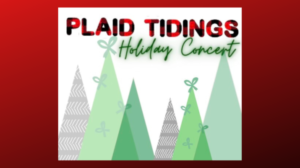 Are you looking for a fun, family-friendly event this holiday season where you can wear all the plaid you want and sing along to familiar tunes? Then look no further — the 10th annual Plaid Tidings Holiday Concert event will fit the bill.
Plaid Tidings Holiday Concert, is a festive event put on by Moore Performing Arts, Inc. The concert is from 6:30-8:30 p.m., Friday, December 9th at Highlands Lakeside Theatre in downtown Sebring. This kid-friendly musical event is sure to bring out the holiday cheer as attendees can enjoy a variety of vocal performances and skits. 
This year's performers, from Porch Play Productions and Friends, are Aisha Alayande, Mariah Alvarez, Martile Blackman, Michelle Cathey, Emma Goodrich, Ronald Cathey, Kayla Clay, Kevin Clay, Aidan Fontana, Christopher Hayes, AvaLynn Hayes, Josh McGhee, Larissa Meager, Larry Moore, Lyric Moore, Rachel Moore, Kendall Oneheiser, Kristin Paradero, Chessa Pepper, Nala Price, Virginia Roebuck, Joe Schirck and Tony Tolar. Special characters will include The Peanuts Gang.
Intermission will have holiday gifts from businesses owned by cast members and cocoa for sale as well as open caroling led by Kendall Oneheiser and Joe Schirck. Anthony's Lounge will also be open to purchase specialty drinks.
The event is produced in partnership with Highlands Lakeside Theatre.
Cost is $10 per person and tickets may be purchased online at this link or at the Highlands Lakeside Theatre box office, 356 W. Center Ave, Sebring, 863-382-2525 from 10:00 AM- 2:00 PM Monday through Friday.
Porch Play Productions is a professional theatre performance group of Moore Performing Arts Inc. and local artists of Highlands County.
Moore Performing Arts, Inc. is an international organization founded in Florida in 2005 by Larry and Rachel Moore. MPA is dedicated to the creation, instruction, production and performance of artistic works, whose mission is to profoundly and innovatively challenge the imagination, senses and emotions of people around the world. It strives to position itself in the community as a responsible proponent of change. This is why you will see the group partnering on projects with prevention organizations that are making a difference in the local community.
Highlands Lakeside Theatre is an award-winning theatre that has been part of the community since 1974. Its mission is to provide a venue for producing live theatre productions by the community, for the community. HLT is proud to once again partner with Moore Performing Arts. 
Come join the holiday spirit as this event will ring in the season of cheer — and be sure to wear some plaid!