Top Family-Friendly Sebring Area Bike Trails
Whether you are an experienced cyclist or just starting out, the Sebring area has tons of bike trail options for all ages and skill levels. This Central Florida destination is home to trails ranging from paved loops perfect for leisurely rides to miles and miles of gravel riding and off-road adventures to challenge all levels of mountain bikers. And if you're hitting the great outdoors with kids in tow, there's no shortage of family-friendly Sebring bike trails. Check out this selection of all levels of trails to chart your course on two wheels.
Paved Bike Trails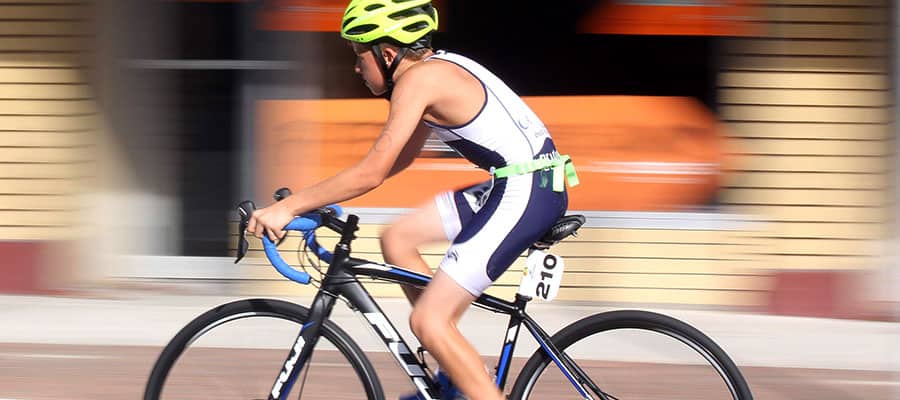 Panther Parkway Bike Trail
The Panther Parkway Trail is a brand-new and very popular bike trail in the Sebring area. This north-to-south asphalt route spans six miles and connects downtown Sebring with South Florida State College in Avon Park. Bikers can access the trail at the intersection of North Ridgewood and Sebring Parkway or from the South Florida State College campus.
Hammock Road Trail
Stretching from Hammock State Park to Lake Jackson, the Hammock Road Trail connects two of the area's most celebrated natural attractions. At six feet wide, this 3.7-mile asphalt trail makes for a leisurely ride perfect for families with younger kids. For those looking for more of a challenge, extend your trip through the Lake Jackson trail or one of Highlands Hammock State Park's bike trails. Parking is available at Highlands Hammock State Park, Max Long Recreational Complex, and at Hammock Road and Lakewood Road.
Lake Jackson Trail
The Lake Jackson Trail's 10.5-mile loop raises the stakes for active families looking for a longer and slightly more challenging ride. This trail boasts scenic lakefront segments along with stretches through residential crossings. This paved trail also connects to additional routes in the Sebring community to make for a solid day of riding. Parking is available at Veterans Beach on the west side of Lake Jackson and Rotary Park in downtown Sebring.
Downtown Sebring
Sebring's bustling downtown district is a bicycle-friendly community hub just waiting to be explored. Families can bike down tree-lined downtown streets and waterfront paths, then finish out the ride with a stop for brunch, coffee, or a bit of shopping. You can take a ride down from your accommodations or park anywhere in the heart of the city to experience this slice of Florida hometown charm.
Nature Bike Trails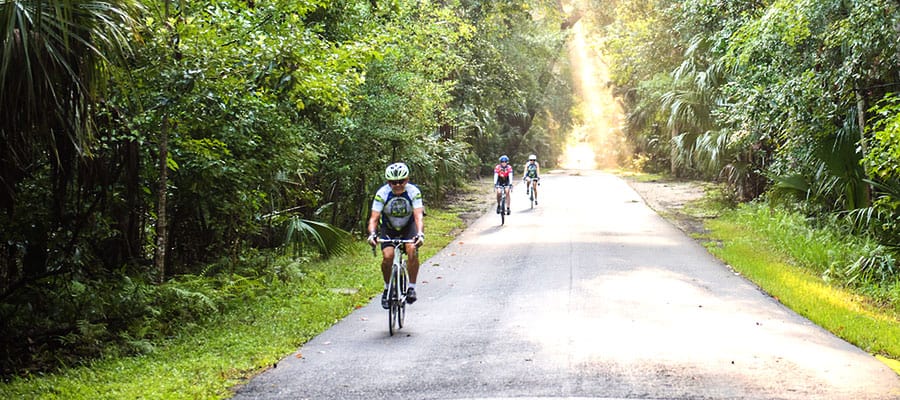 Sun 'N Lake Preserve Trail
Nestled on over 1,300 acres of untouched Florida flora and fauna, the Sun 'N Lake Preserve is a popular destination for hiking, mountain biking, and wildlife observation. Families on the hunt for their next trail adventure should note Sun 'N Lake can be a challenge. At 12 miles long, this trail has technical and cardio-heavy segments throughout the ride. However, if you're up for the workout, the sights and sounds are worth the effort! Look out for deer, river otters, red-shouldered hawks, and of course, gators. To get there from US 27, turn onto Sun 'N Lake Blvd until you reach the end of the road. The parking lot to the preserve is off to the right.
Highlands Hammock State Park
Cross another state park off your family adventure bucket list. Highlands Hammock State Park is unique in that its untouched wildlife dates back to ancient times, with more rare and endemic species than any other Florida state park. While bikes are not allowed on the park's boardwalks and nature trails to preserve this fragile and diverse ecosystem, the park does offer two trails for bikers of all ages. There's a three-mile paved loop offering a smooth ride perfect for young kids and grandparents, as well as a six-mile mountain biking trail to challenge teens and parents. The park is open from 8 a.m. until sunset, 365 days a year, including holidays, and admission costs $6 per vehicle.
Bike Events in Sebring, Florida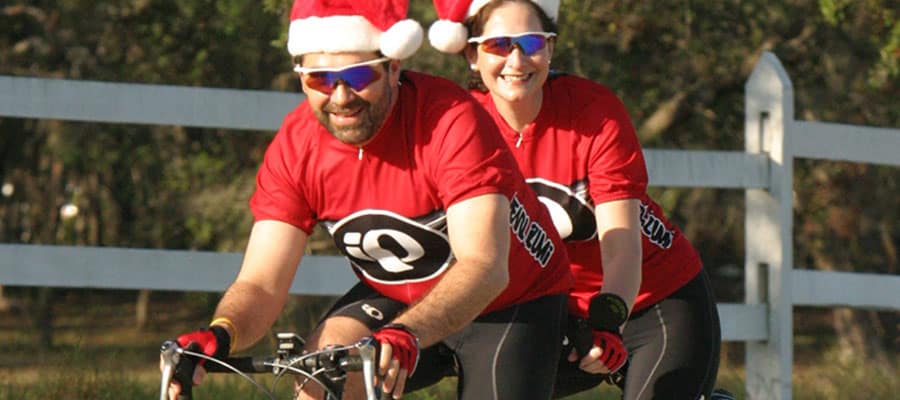 Highlands Bikefest
Each January brings home the Highlands Bikefest, a tour of the area's country roads lined by cattle ranches and orange groves. This weekend-long event not only features scenic rides through tranquil routes but also activities, fun, and games to keep riders of all ages entertained. Register for next year's ride and start planning your trip!
Bike Sebring 12/24 Hours
If your family is all about intense physical challenges, Bike Sebring is the place for you. Slated for every February, this endurance event takes place at the Sebring International Raceway and features 12- and 24-hour racing events and a 100-mile loop through the Sebring area. Sound like a worthy feat? Start training today!
Tour of Sebring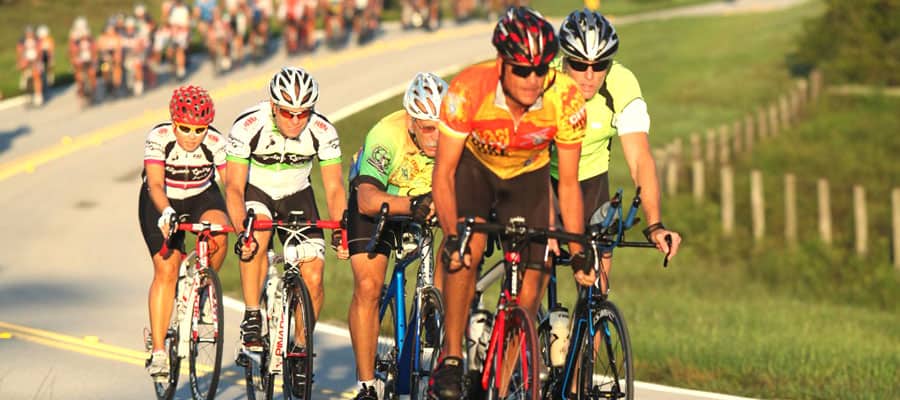 Bringing together over 600 cyclists from all over the country, the Tour of Sebring offers routes from 11 to 62 miles over Labor Day weekend. If you're up for an even more significant challenge, the Bok Tower Century is a 100-mile loop to Bok Gardens and back on roads lined with a canopy of live oaks, caladium fields, and orange groves.
GFNY Cycling Marathon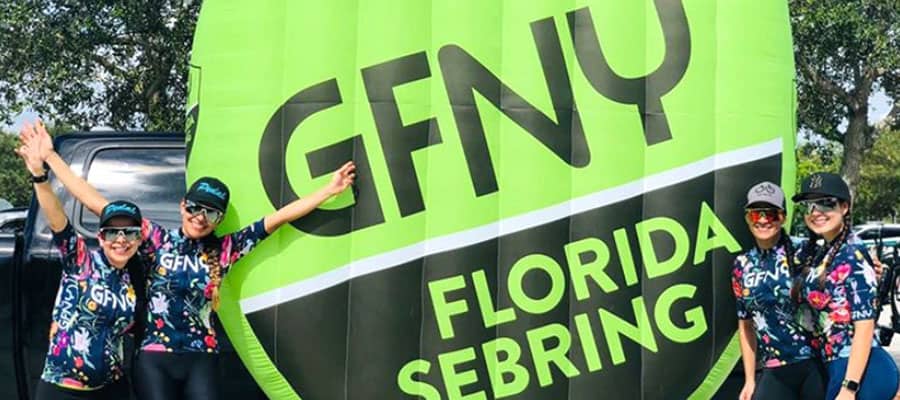 Do you have plans for Halloween? Before you head out trick or treating with the kids, hit the GFNY Cycling Marathon in Sebring every October. Ride through native Florida scrub, cattle ranches, orange groves, and dairy farms on a scenic loop through the Sebring and surrounding area. Earn yourself a medal and bragging rights with plenty of opportunities to celebrate all week long!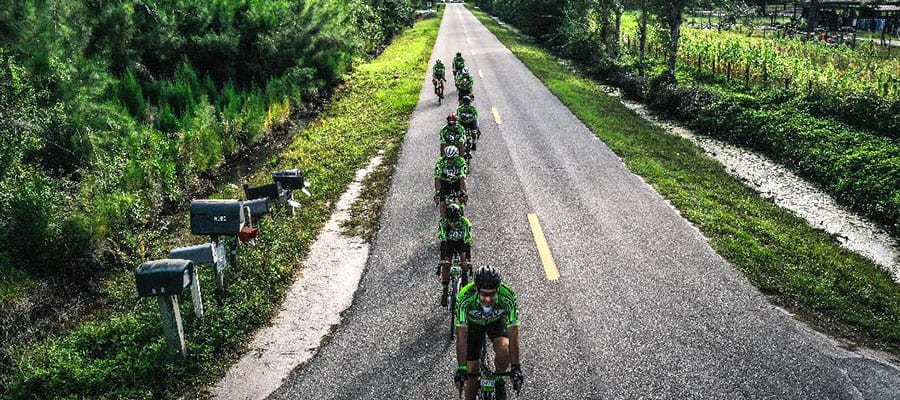 Whether you choose to bike through the woods, ride along the lakeshore or test your skills in a race, these paths offer plenty of natural beauty and fun for all ages. Pack a picnic for the kids and make it a day trip or stay overnight and experience everything the Sebring area has to offer beyond its breathtaking bike trails. With so many great places to choose from, which route is up first on your list to explore?