Visit Sebring Launches Sips, Suds & Sodas Trail to Highlight the Area's Craft Beverage Offerings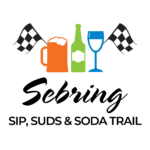 SEBRING, Fla. (April 1, 2021) – No fooling!  On April 1, Visit Sebring will launch its Sips, Suds & Sodas Trail. This new program highlights the diversity of Sebring's craft beverage scene, offering both visitors and locals a variety of discounts and savings as they taste their way throughout the Sebring area.
The digital savings passport is a free program that anyone can sign up for. With nearly 10 local businesses included in the passport, it showcases the best of craft sodas and locally produced craft beverages in Sebring, Avon Park and Lake Placid, FL in an easy, mobile-friendly way.  
"We are thrilled to have a craft beverage trail that promotes our locally produced wine, beer and spirits, as well as the craft sodas this area is now known for," said Casey Hartt, Visit Sebring's Lead Marketing Consultant. "And we knew that launching the pass in conjunction with the Sebring Soda Festival (April 2-3, 2021) would be a great way to kick it off."  
Once signed up, participants can visit a dedicated mobile passport landing page where they can access the Sips Trail.  A link is then sent to their mobile phone, which opens the passport and directs the user on how the passport works and details about what each Sips Trail business is offering guests. When the user is ready to redeem their pass at each Sips Trail location, they simply enter the 4-digit code posted to access the savings.  Once registered, participants will learn about opportunities to win prizes, including a vacation Grand Prize. Passholders are encouraged to post their experiences on social media using the hashtag #SebringSips.
For more information, visit explore.visitsebring.com/SIPS or call the Visit Sebring office at (800) 545-6021.