Sebring Soda Festival Wins Three Top State Awards
SEBRING, Fla. (Aug. 27, 2019) – The Sebring Soda Festival recently won three top state awards from the Florida Festivals & Events Association (FFEA).  The awards were announced on Aug. 22 at the 25thAnnual Florida Festivals & Events Association conference in Naples, FL.
FFEA celebrates the accomplishments of its members annually through the SUNsational Awards. For two decades FFEA has recognized the many talents of Florida event and festival planners and distributed more than 1,800 awards to deserving event industry organizations and individuals over the years.
The Sebring Soda Festival, which is hosted each year by the Greater Sebring Chamber of Commerce with assistance from Visit Sebring/Highlands County Tourist Development Council (TDC) and the Sebring Community Redevelopment Agency (CRA), competed against events and festivals from around the state of Florida and won the following three awards in the $50,000-$249,999 budget category:
1stplace – PR/Media Campaign
1stplace – T-shirt
1stplace – Promotional Item
"We are thrilled to receive three first-place honors from FFEA for a festival that is still a relatively new event," said Liz Barber, Sebring Chamber President/CEO.   "The Chamber, along with our partners, sponsors and volunteers, have seen amazing growth in the Sebring Soda Festival in just two short years, and this statewide recognition of the Festival further proves that our hard work is paying off for the Chamber, our members and our community."
Award nominations were accepted in nine categories, including Printed Materials; Outdoor Advertisement; PR/Media Campaign; Photo; Promotional Item; T-shirt; Broadcast Media; Multimedia Marketing and Programming. Each category included three budget levels. A total of 190 events submitted their materials for consideration.
Nominations were judged by a blue-ribbon panel representing media outlets, printing companies, website designers, photographers, promotional marketing professionals and social media experts. For a complete list of winners, visit www.ffea.com.
"The SUNsational Awards have recognized and celebrated the talents of our members for more than two decades," said Suzanne Neve, Executive Director of the FFEA.  "We're proud of our members and their events – and excited to recognize them in this way each year."
The 3rdAnnual Sebring Soda Festival is scheduled for April 3-5, 2020 in historic downtown Sebring.  Find more details about the Florida's fizziest festival at www.SebringSodaFest.com.
FOR IMMEDIATE RELEASE
Contact: Casey Wohl Hartt
(863) 640-1743 – p
Casey@VisitSebring.com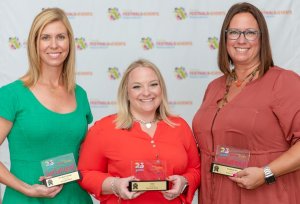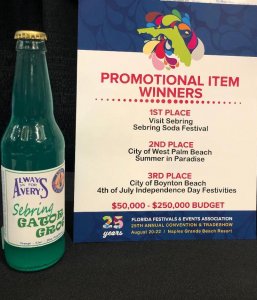 Photos: 1) Casey Hartt (Visit Sebring) and Liz Barber and Jamie Gallo (Sebring Chamber) accept three awards from the Florida Festival & Events Association (FFEA) on behalf of the Sebring Soda Festival. 2) Sebring's Gator Grog won best Promotional Item at the FFEA's SUNsational Awards Program.