Lake Istokpoga revealed as one of 10 locations where prized bass are swimming
SEBRING, Fla. (May 24, 2022) – The Florida Fish and Wildlife Conservation Commission (FWC) revealed 10 freshwater locations across the state where pink-tagged bass worth big prizes are swimming right now, and Lake Istokpoga was chosen as one of those locations.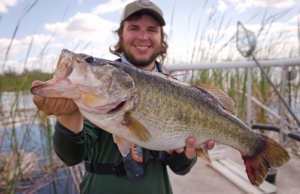 To celebrate season 10 of the TrophyCatch program, FWC biologists tagged 10 trophy-sized largemouth bass with bright pink tags and their secret fishing locations have been divulged. Each angler that catches and documents a pink-tagged bass will score a $5,000 gift card to Bass Pro Shops, $1,000 to shop at AFTCO, with a chance to win an additional $10,000!
"Our freshwater biologists tagged 10 huge bass across the state – just about everyone is within a day-trip's distance to fish for one of these tagged bass from a boat, kayak or even the bank," said KP Clements, director of FWC's TrophyCatch program.
FWC's TrophyCatch program is a valuable tool for FWC's freshwater fisheries research and management. It provides reward incentives to encourage anglers to catch, release and report trophy-sized (weighing 8 pounds or more) largemouth bass in Florida. The program develops public-private partnerships to protect trophy bass, promote fishing and support fisheries conservation programs. TrophyCatch anglers, who catch approved bass, receive rewards from program partners while FWC biologists learn more about producing and sustaining the best trophy bass fishery in the world.
Visit the 10-tag webpage on the TrophyCatch website for rules on how to participate in the season 10 promotion.
Covering more than 27,000 acres, Lake Istokpoga has one of the highest largemouth bass catch rates in the state of Florida and is consistently ranked one of the top trophy bass lakes in the Southeastern U.S. by Bassmasters. Find out more about fishing in the Sebring/Highlands County area. The following TrophyCatch bass have been documented from Lake Istokpoga:
•Lunker Club (8–9.9 pounds): 484 fish
•Trophy Club (10-12.9 pounds): 95 fish
•Hall of Fame (13+ pounds): 2 fish
-30-
Visit Sebring is the destination marketing organization managed by the Highlands County Tourist Development Council (TDC). The mission of the TDC is to contribute to a positive quality of life for the residents of Highlands County through destination promotion, tourism development, advocacy, and resource management – which are foundation pieces for future economic growth. For more information, visit http://www.VisitSebring.com or find us on social media @VisitSebring.
FOR IMMEDIATE RELEASE
Contact: Casey Hartt
Cell: (863) 640-1743
Casey@VisitSebring.com
Photo courtesy of TrophyCatch.