Caladium Festival Returns to Lake Placid, FL, July 29-31
Celebrate the colorful festival's 31st anniversary in the Caladium Capital of the World
Lake Placid, FL (June 28, 2022) – From July 29-31, 2022, gardening enthusiasts will converge in Lake Placid, FL to celebrate the 31st edition of the Caladium Festival. Located in Central Florida, about a two- hour drive from Orlando, Lake Placid grows approximately 90% of the world's supply of caladium bulbs, and the annual festival is a way to celebrate the local growers and their fans. This is the only festival celebrating caladiums in the United States. Caladiums are grown in large fields and have been compared to the tulip fields in Holland for their beauty during the summer months. Sometimes known as "Heart of Jesus Plants" or "Angel Wing Plants," caladiums have large, heart-shaped leaves in varying patterns of green, white, pink, and red.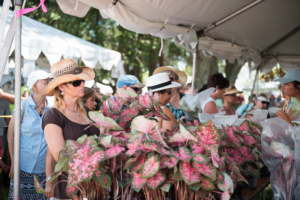 During the three-day festival, attendees can purchase bulbs and plants (including some that aren't grown anywhere else in the world), go on grower-guided tours to learn about the caladium industry, and visit a home site that has been planted extensively with caladiums. Festival admission is free. Bus tours of the caladium fields, decorated neighborhood and Lake Placid area can be purchased in advance for $12 or $15 the day of the event.
"Our entire Lake Placid community rallies around this longstanding event each year," said Jennifer M. Bush, Executive Director of the Greater Lake Placid Chamber of Commerce. "While caladiums are at the heart of it all, the festival is a celebration for the whole family. We've also got a car and bike show, live entertainment, an arts and floral arrangement competition, vendor booths and so much more."
Caladiums were first grown in the Lake Placid area in the early 1940s. The industry began to expand in the 1950s and today consists of more than 1,200 acres. The best time to see caladium fields are late July, August and September. Around festival time, local yards and parks are also vibrant with caladiums. At the end of October, tubers are harvested and shipped all over the United States and internationally.
For more information on the Caladium Festival please contact Tanya Churchmuch at tanya@muchpr.com or Casey Hartt at Casey@visitsebring.com. For bus tour tickets, contact the Lake Placid Chamber of Commerce at information@lpfla.com.
-30-
Visit Sebring is the destination marketing organization managed by the Highlands County Tourist Development Council (TDC). The mission of the TDC is to contribute to a positive quality of life for the residents of Highlands County through destination promotion, tourism development, advocacy, and resource management – which are foundation pieces for future economic growth. For more information, visit http://www.VisitSebring.com or find us on social media @VisitSebring.
**Photos available upon request.
FOR IMMEDIATE RELEASE
Contact: Casey Hartt
Cell: (863) 640-1743
Casey@VisitSebring.com