The Top Pet-Friendly Rentals for Your Visit to Sebring, FL!
The packing list for your next trip to the idyllic Sebring area should include your trusty swimsuit, a nice dinner outfit, plenty of sunscreen and your four-legged family members. We understand it can be hard to leave your pet behind when you go on vacation, so we've created a pet-owner's manual to visiting our slice of paradise. Give your go-to sitter the week off and keep reading to learn about pet-friendly rentals and stays in Sebring, Lake Placid or Avon Park, as well as restaurants and entertainment for every member of the family.
The Top Pet-friendly Stays Near Sebring
Want to stay in an upscale home that's tucked away so your pup can roam? How about a charming villa near the heart of Sebring for you and your favorite feline? No matter what kind of stay you want or pet you bring, Sebring and its surrounding cities have the rentals you need to enjoy your time with us.
Spacious Home on a Lake June Canal
If you're looking for a rental with enough room for the whole family, your precious pup and then some, this lakeside vacation home is the place for you. Not only does it have room to spare with space for ten visitors, this VRBO includes a covered patio with a solar-heated saltwater pool so you can soak up the sun from the comfort of your backyard.
What truly sets this gorgeous house apart from the rest is its location on a canal of Lake June. Just steps away from your backdoor is a natural wonder for you and your beloved pet to enjoy.
Lakefront Oasis with a Private Dock
Private dock on Red Water Lake? Check. A screened-in swimming pool? Check. Kayaks, updated amenities and a spacious yard for your pet? Check, check and check. No matter what's on your must-have list for a vacation home, this lakefront VRBO has it all. For our visitors with a taste for adventure, you can pull your boat and jet skis right up to the private dock or use provided kayaks to hit the water and fish for dinner. With plenty of outdoor space, the only problem you'll have is getting your pet to come back inside!
Charming Sebring Villa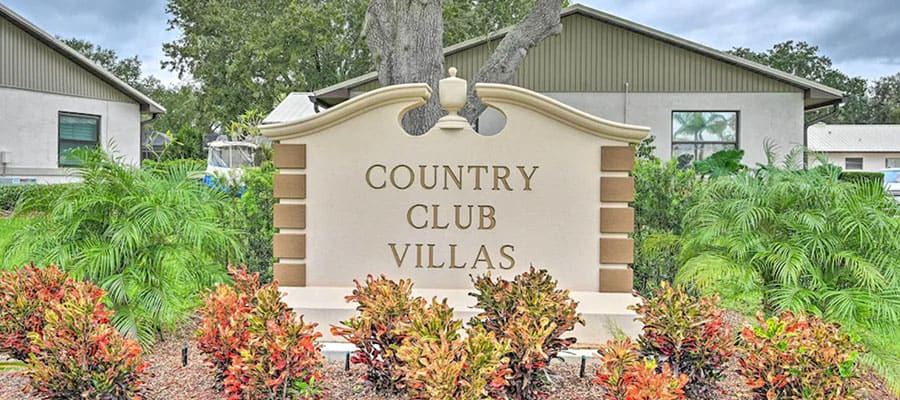 A memorable weekend with your loved ones is basically guaranteed at this charming villa located in the Country Club Villas Sebring International Golf Club. This cozy vacation rental has space for four and all the benefits of being in an upscale community such as a pool and shuffleboard. Lounge in the outdoor living area with man's best friend or take a trip to the nearby Sebring International Racetrack to experience the thrill and excitement of one of the area's top attractions. The HOA that keeps this area beautifully maintained requests that any dogs brought onto the premises weigh 25 lbs. or less.
Tucked Away Paradise Minutes from the Action
This secluded home is truly the best of both worlds with private botanical gardens for you to relax in and restaurants and entertainment just minutes away when you're ready to hit the town. A pet-friendly paradise, this Airbnb has the tranquility you deserve after a long day of experiencing the best Sebring has to offer.
Historic Home in the Heart of the City
At its core, Sebring is a historic city that boasts decades of hometown charm and an array of natural wonders. When you stay in this Historic Airbnb located in the heart of Sebring, some of our most iconic locations are within walking distance. Take your pet on a walk to the nearby Lake Jackson or travel five blocks to let your favorite fido run around the spacious public park. If you and your traveling companions want to check out our local cuisine and nightlife, you are only six blocks away from our historic downtown.
Hotels:
Inn On the Lakes
Does your dream vacation include rooms you don't have to clean and meals you don't have to cook? For ultimate relaxation in a pet-friendly environment, consider checking in to the Inn on the Lakes. This luxurious boutique hotel has every amenity you could think of and, most importantly, free full breakfast daily. Not only can you enjoy a delicious meal from the comfort of your room, so can your pet. With Gourmet Pet Room Service, your best friend can get the luxury they deserve with a menu curated just for them. Book a night (or more!) now and enjoy a catered experience that is located for convenient access to Sebring attractions.
Things to Do in the Sebring Area with Pets
To truly experience the Sebring area, you need more than a pet-friendly rental — you need experiences and restaurants that everyone will love. There's no need to stress, we've made planning your vacation itinerary easy by compiling a list of the best spots that you and your pet can enjoy. Next time you're in town, you should check out:
Whether you're roaming historic downtown with your dachshund or chilling next to the lake with your Labrador, the Sebring area is the ultimate vacation spot for your family, friends and furry companions.