Introducing Visit Sebring's New Fishing Ambassador, Lunker Louie
Even though he's only 19 years old, Sebring's own Lunker Louie is a Florida legend when it comes to fishing. Louie was introduced to the sport by his grandfather when he was 3, and he was only 7 when he reeled in his biggest catch to date – a 14 lb. giant bass! That catch got the young angler into the local newspaper and over the years he's been profiled on TV shows and been on the cover of several magazines. Now, Visit Sebring is proud to introduce Lunker Louie as our official Fishing Ambassador, allowing him to share his love for fishing across the Sebring area! Follow Louie's adventures in the conversation below and you'll learn more about why Louie loves fishing here so much, and what visitors to the region can expect when they hit our waters for the first time.
Visit Sebring's One-on-One with Lunker Louie
Visit Sebring: It's amazing all you've achieved already, but how did you get into fishing as a kid?
Lunker Louie: I was about three years old. My grandpa just started taking me out on the boat with him and I somehow picked it up pretty quickly. It didn't really stick with me though until I was seven when I caught my biggest bass, which was 14 pounds. After that, I was hooked on fishing. By the age of 9, I did my first TV show with Lunkerville and that ended up airing on NBC sports and other channels. I got a lot of notoriety for being able to catch a lot of big fish.
VS: What do you like best about fishing?
LL: The element of surprise. I've never had a day on the water be the same as the day before. I just like being able to see new stuff, do new things, not knowing what you're going to catch.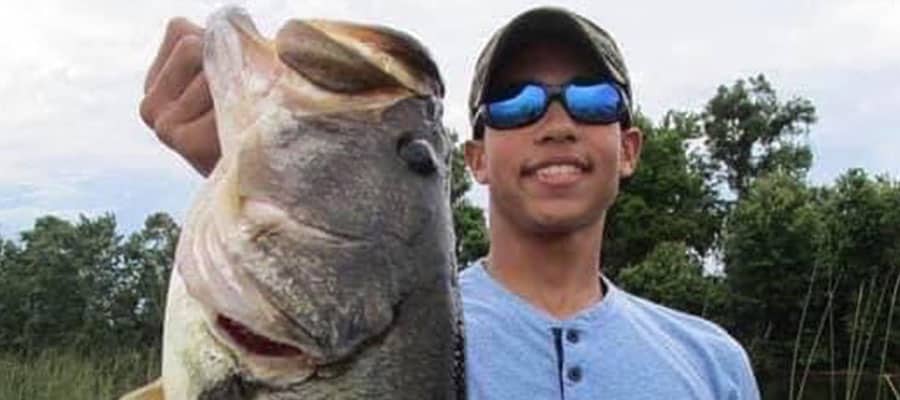 VS: Where are your favorite places around Sebring and Highlands County that you like to fish at?
LL: Lake Istokpoga for sure. There's a couple of lakes in Avon Park as well where I've spent a lot of time fishing with my grandpa, there's so many spots here. It's great, this is one of the best places to be for fishing. Around Sebring, there's so much opportunity to catch giant bass. There's so much diversity. We've got lakes that are deep, lakes that are shallow, lakes that are clear that you can see all the way to the bottom and others are dirt brown. Some have a lot of brush and rock and then lakes that are filled with grass and other plants. It's just such a good fishery because the heat lets these fish grow bigger and there's so many fish to catch here in Central Florida. It's crazy how big these fish grow.
VS: Other than your biggest bass catch when you were seven, do you have any other favorite fishing memories from here in Greater Sebring?
LL: I have so many! But one of the ones that really sticks out for me was in the summer of 2018. I caught a 13 pound, 14-ounce bass, which is the second biggest I've caught and that day I was out fishing with my grandpa. It was such a great day!
A note from Visit Sebring – that catch is the biggest Hall of Fame bass caught to date on Lake Istokpoga, and Louie has numerous recognitions for his big catches over the years from the Florida Fish and Wildlife Conservation Commission (FWC)Big Catch Program, including Specialist, Master and Elite Angler Awards.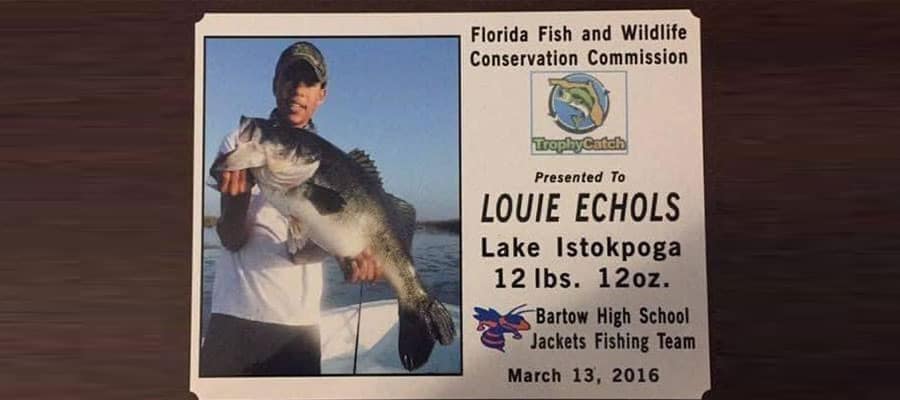 VS: What advice would you give to someone coming to the Sebring area to fish for the first time?
LL: Just do it, there are so many amazing places to fish here. I often look at Google Earth and see what bodies of water are around. If it's legal to fish there, give it a try! Sometimes you can find spots that nobody has even fished at before! And always ask around. Ask for advice at local tackle shops. The great thing about fishing here is that there are so many different types of fish to catch in so many different places and it can be done pretty easily. I'd encourage everybody to come fishing here.
Be sure to give Lunker Louie a follow on Facebook and Instagram to ride along his journey on the Sebring waters!