The Military Sea Services Museum of Sebring, FL and other Hidden Gems Offering Military Discounts
May is Military Appreciation Month, and what better way to honor United States military servicemen and women and learn more about American history than visiting attractions that showcase military artifacts and exhibits? If you're looking for a cultural getaway in a quiet, picturesque town, look no further than Sebring, Florida. Keep reading to find out about our military attractions and the discounts our local hotels and restaurants offer to military personnel and their families.
Sebring Military Attractions
In the midst of state parks, raceways and golf courses, Sebring, Florida has attractions that highlight American history and honor those serving in our military branches. If it happens to be a particularly hot day in Florida or you're looking to add a little culture and history appreciation to your vacation, here are some great military attractions that you should check out.
Military Sea Service Museum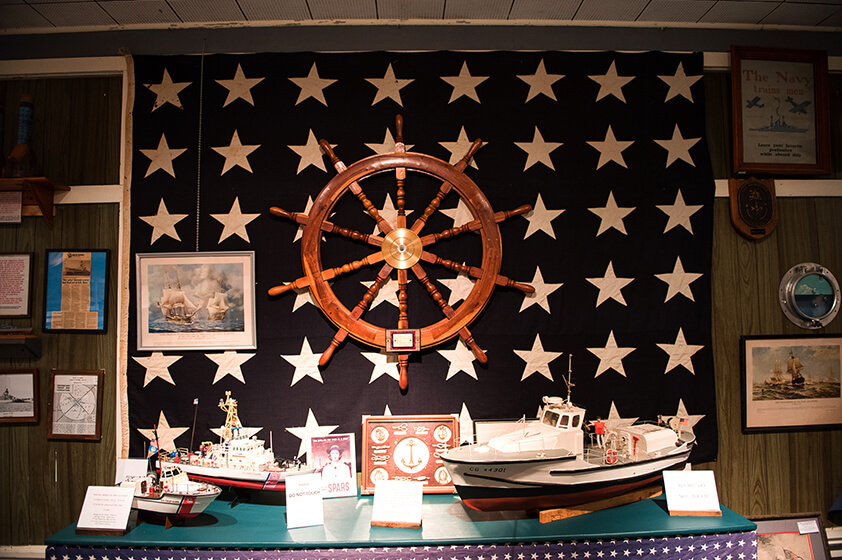 Sebring's Military Sea Services Museum honors all the ocean-going arms: Navy, Marine Corps, and Coast Guard. The museum is located on Roseland Avenue near downtown Sebring and was established in 1998. It is dedicated to preserving and promoting the history of the country's maritime forces.
The museum is free to visit and is full of artifacts and memorabilia, including weapons, equipment, uniforms, photographs and first-hand accounts of soldiers and sailors. In fact, most of the museum's guides are local veterans.
A featured attraction is the USS Highlands Room, honoring the World War II attack transport named for the county in which Sebring is situated. Surrounding the museum is a brick walkway with the names of veterans of various American conflicts, called the 'Memory Walk."
This museum is a great way to spend the afternoon learning about American history and honoring our maritime servicemen and women. Exhibits are open Wednesday through Saturday, 12-4PM.
Avon Park Air Force Range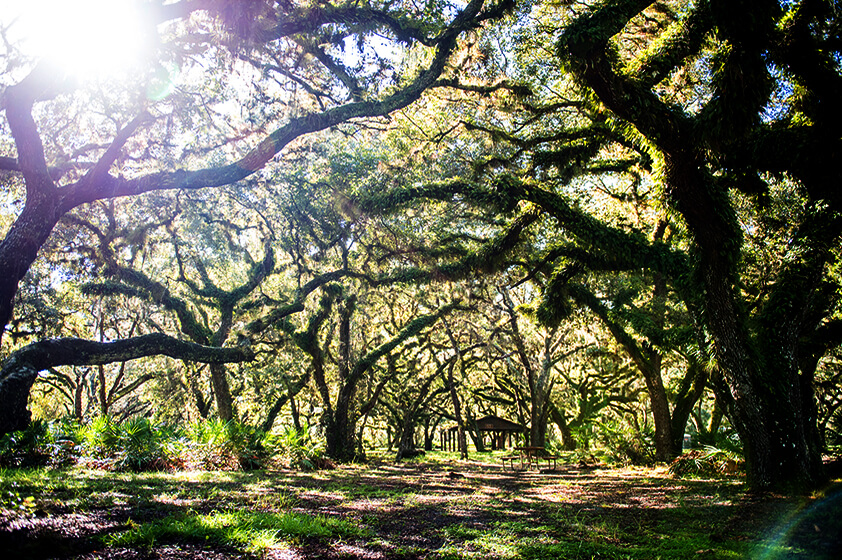 Avon Park Air Force Range (APAFR) is a 106,000-acre military training facility, open to the public and military personnel for recreational opportunities. The range is known as a world-class destination for hunting fishing, camping, hiking, birding.
Over 2,500 acres are reserved for hunting at the Military Recreation Area (MRS), exclusive for active duty or retired military personnel. Veterans with 100% disability are also welcome. They also have a single primitive campground so you can spend the wind down after a long day of hunting.
Veterans Memorial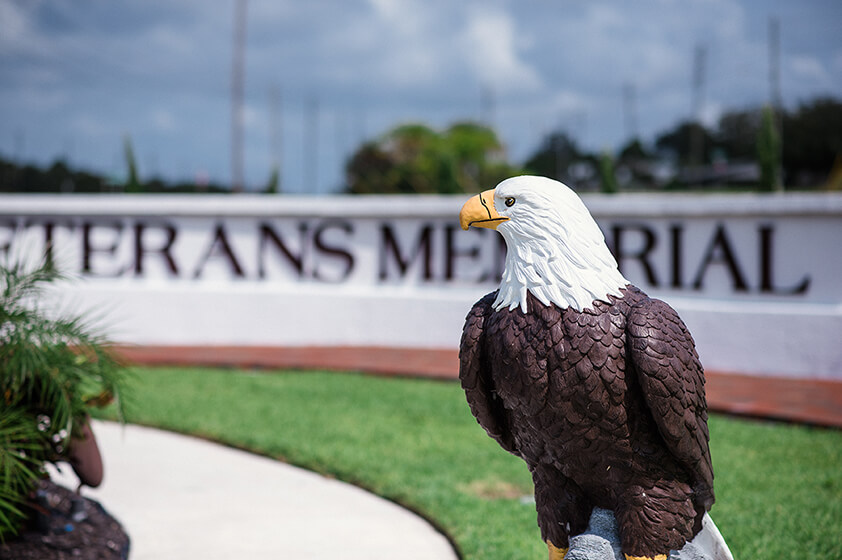 Countless drivers pull off the highway to take pictures and walk around the Veteran's Memorial in Lake Placid. The Memorial features a 7 ½ foot fountain, two majestic eagles, plants, flowers, and a seating area with benches where you can reflect and pay respects to the brave men and women who fought for our safety and freedom.
This site has become a landmark that attracts numerous visitors to come an admire the beautiful park while honoring our veterans.
War Dog Memorial
The War Dog Memorial was donated to Avon Park by Battle of the Bands Inc. and the Loyal Order of the Moose 2374 in Lake Placid in 2018. This memorial honors the furry friends that served our country alongside our troops as well as the service dogs that help veterans with post-traumatic stress disorder, and physical disabilities. The memorial features a five-foot-tall soldier and two German shepherds among a few other figures. Beautifully lit at night, this memorial is a great place to stop by after sunset and give thanks to the dogs who protect and serve on the battlefield as well as on the home front.
Lakeview Memorial Gardens
An annual tradition is the Memorial Day ceremony at Lakeview Memorial Gardens cemetery in Avon Park. The ceremony begins at 9AM with a special recognition of Sergeant Charles W. Jenkins, the first burial at the cemetery in 1969. Following Sgt. Jenkin's recognition, a guest speaker will honor those who fell in the line of duty. There will be a 21-gun salute and a wreath presentation, with a special wreath for each branch of service. After the ceremony, there is a free meal that includes hot dogs, chips, and a soda.
This is a great opportunity to honor military personnel and instill a sense of patriotic pride.
Sebring Attractions Offering Military Discounts
Highlands Hammock State Park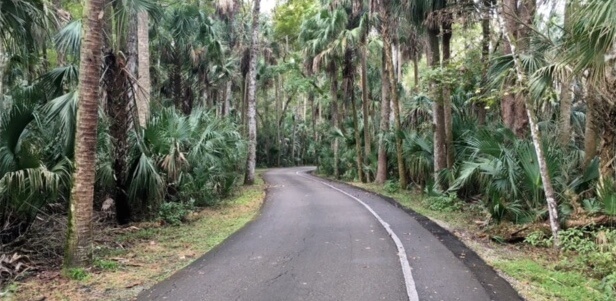 Highlands Hammock State Park provides a genuine outdoor adventure that you won't find anywhere else. With nine trails, an elevated boardwalk and a tram, you can enjoy the Florida ecosystem from various angles. Bring your camera because you might be able to spot a Florida alligator, deer or black bear among all the other wildlife in the park. Florida State Parks offer a 25% discount on the purchase of Annual Entrance Passes for active duty or honorably discharged veterans of the United States Armed Forces, National Guard or reserve units of the U.S. Armed Forces or National Guard.
Sebring Hotels Offering Military Discounts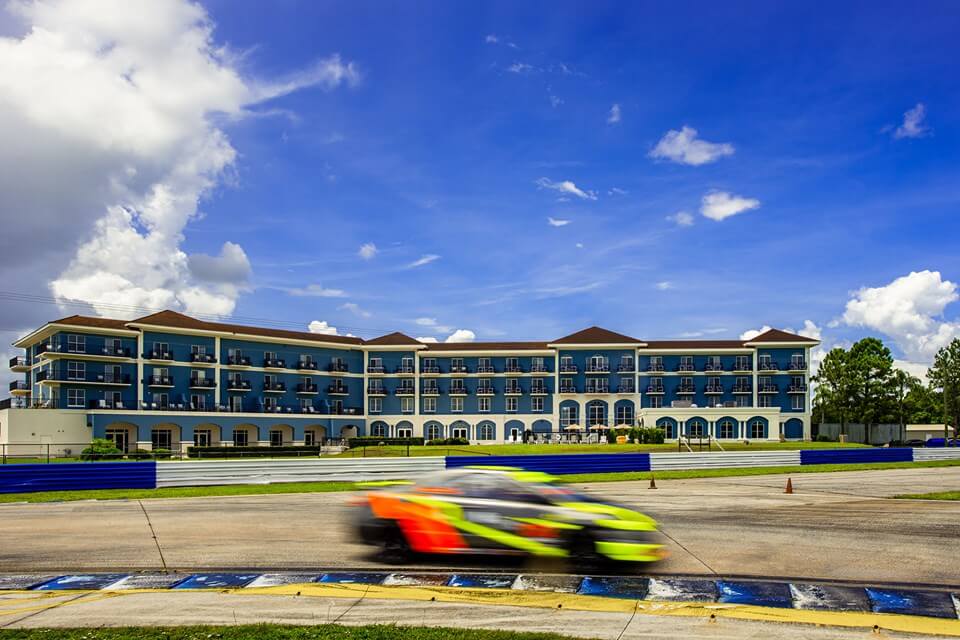 Hotels around the country are committed to ensuring that service personnel and their families have a clean, comfortable and private place to stay, whether they are returning home or taking a well-deserved vacation. Several Sebring area hotels offer significant discounts to military guests and their families.
Seven Sebring Raceway Hotel – Seven prides themselves in being a dependable friend and a second home to all their guests. They appreciate those who have served and continue to serve and support our country. Active duty and retired personnel can enjoy up to a 10% discount year-round.
Jacaranda Hotel – The Jacaranda Hotel is nestled in a quiet corner of Sebring and radiates unequaled elegance. A sprawling veranda overlooks tree-lined Main Street and serves as a favorite gathering place to relax after a long day of adventures. They extend a 10% corporate discount to military personnel and their families.
Residence Inn by Marriott – The Marriott military discount entitles active duty military to a savings of upwards of $250. Of course, the discount will depend on factors like location, time frame, hotel branch, and more. You can see how much you'll save during your stay on their website.
Tru by Hilton – Hilton hotels offers exclusive savings of 10% off leisure stays for active and retired military and their families, and Tru hotel in Sebring is no exception.
Inn on the Lakes – At Inn On The Lakes, you will enjoy the luxury of casual, yet elegant surroundings that are as pleasing to the eye as they are comfortable and relaxing. Active duty military guests receive the military per diem rate and also a $25 gift card for Chicanes Sebring restaurant to enjoy a gourmet dinner experience, complete with romantic lakeside views in a festive atmosphere.
Sebring Restaurants that Offer Military Discounts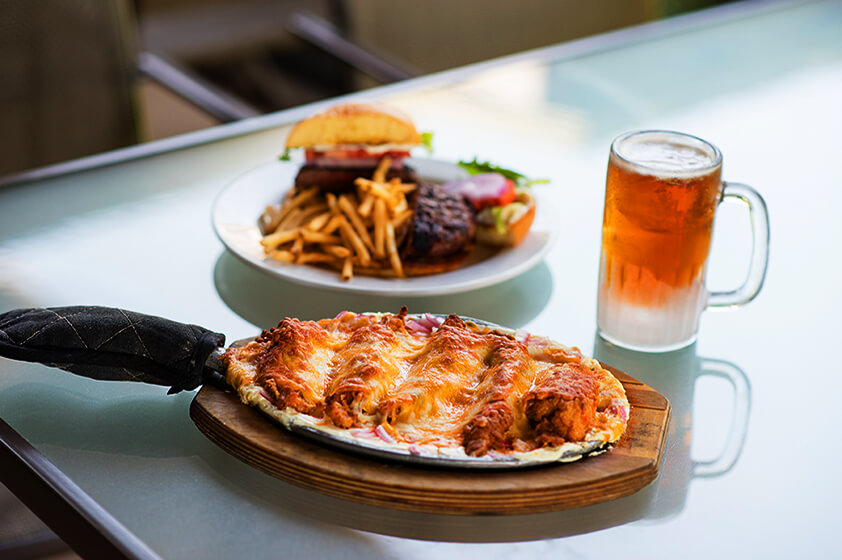 Village Inn – From the moment they open until their close their doors for the night, you can enjoy Village Inn's made-from-scratch buttermilk pancakes and crepes, signature skillets, and V.I.B – where you can create your own Village Inn Breakfast. The best day of the week to visit is Wednesdays, during Free Pie Wednesday, where guests enjoy a free slice of pie with each entrée purchase. Even better, they offer a 10% discount for military personnel.
Jaxson's Restaurant – You can't visit Sebring and not try a Hookiemelt at Jaxson's Restaurant. Order the chicken or gator version, prepared friend, grilled, or blackened. It come served on a hot black griddle with onions in a sour cream sauce with a choice of wing sauces and is smothered in jack and cheddar cheese. The best part, they offer military discounts!
Smoke Shack BBQ – Enjoy fresh, homemade, award-winning BBQ along with a true southern breakfast options and southern specials every day. Indulge in a plate of Dirty Nachos, corn tortillas piled high with pulled pork, baked beans, and melted nacho cheese, served with a side of sour cream and fresh pico de gallo. Yum! The Smock Shack offers 10% discount with valid military ID.
Dee's Place – Imagine a family-friendly restaurant that serves homecooked foods of all kinds with a smile. Well, you can stop imagining because Dee's place is that little slice of heaven on earth. Try a Double He-Man Burger with Cheese; two half-pound patties cooked to order, served with your choice of fries, coleslaw, macaroni or potato salad. Dee's Place offers 10% discount for military personnel.
Sebring Soda & Ice Cream Works – Home to the finest and largest selection of craft and vintage bottled sodas and ice cream, they carry 300 different flavors of sodas from all over the world, and 40 flavors of super premium ice cream. They are also the home of the "Super Sebring Sundae Challenge": a whopping 12 scoops of ice cream, 2 bananas, 2 chocolate chip cookies, a ton of tasty toppings, and more! Finish it and get your picture on the Wall of Fame and the sundae is on the house! The shop also offers 10% off for military and first responders.
If you're active duty or retired personnel and are looking for a hard-earned vacation with your family, the Sebring area is ready to welcome you with open arms and treat you like family. From fun things to do, delicious meals to eat, and peaceful places to rest, Sebring is the quiet oasis you and your family can escape to for an unforgettable trip.