Florida Weddings & Events: Banquet Halls and Venues in Sebring, FL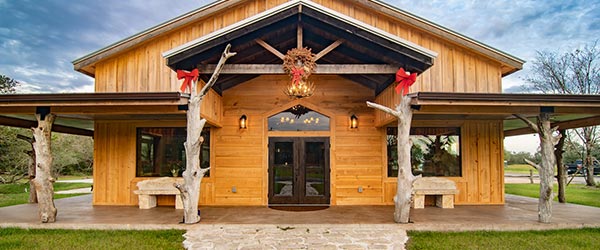 She said, 'Yes!' So, what's next? Wedding planning can just about take over your life following an engagement. It is the most important day of your life, after all! And the process of bringing that dream day to life starts with finding the perfect wedding venue for your upcoming nuptials.
Whether you're planning an intimate wedding ceremony or a 300-guest celebration, Sebring offers the opportunity to take your special day off the beaten path while still remaining central to some of Florida's biggest cities. So, make your accommodations easy for friends and family traveling statewide and choose the destination that accentuates accessibility and affordability—here's your guide to budget-friendly wedding venues and banquet halls located in the heart of Florida.
The Barn at Paso Fino
Rustic charm meets elegant finishing touches at The Barn at Paso Fino. This stylish 4,000-square foot event venue is fully covered and air-conditioned to make your Florida wedding as comfortable as it is unforgettable. Just outside picturesque Lake Placid, The Barn at Paso Fino also features a modern farmhouse on the property to make your special day even more special.
The Lodge at Lightsey Family Ranch
Nestled on 2,000 acres of Florida Heartland, the Lightsey Family Ranch is home to a breathtaking backdrop for your big day. In fact, why not make a weekend of it? The property's lodge features 10 private guest rooms and suites to welcome your entire wedding party, plus an in-house chef to make your experience absolutely delicious.
Inn on the Lakes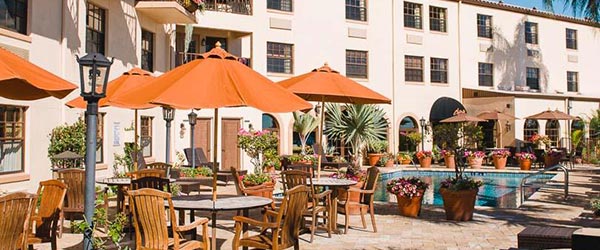 Sebring's premier hotel, Inn on the Lakes, takes elegance and sophistication to a new level. No detail is spared for weddings at this venue, able to welcome up to 85 guests in the Royal Palm Room. With an exquisite, panoramic lake view and a deck overlooking the hotel's striking lobby, plus catering from Sebring's own Chicanes restaurant, this space is everything you need to celebrate your love.
Secret Gardens Winery & Farm
Say "I do," overlooking a scenic vineyard, then celebrate surrounded by family and friends at the antique bar serving fine Florida wine. Complete with a bridal suite and 4,000-square feet of air-conditioned event space, Secret Gardens Winery and Farm can accommodate your entire party for a full day of festivities. 
Seven Sebring Raceway Hotel
Offering 7,000-square feet of flexible space, the Seven Sebring Raceway Hotel is an all-in-one wedding destination. With on-site catering, guest accommodations, hotel amenities and so much more, this venue goes the extra mile when it comes to weddings. Customize your package to fit your event's size and budget and plan the wedding of your dreams.
The Pavilion on Little Lake Jackson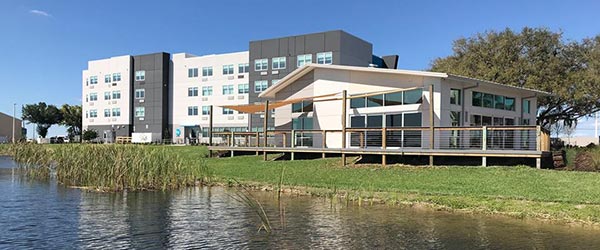 Breathtaking doesn't even begin to describe the view surrounding The Pavilion on Little Lake Jackson. This versatile indoor-outdoor venue includes a canopied lakeside deck, shaded courtyard and indoor space with floor-to-ceiling windows. Clean, modern lines contrast the natural beauty of the property's location, making it an absolute dream of a venue.
Jack Stroup Civic Center
Celebrate your union in the heart of the Sebring community at the Jack Stroup Civic Center. A local gathering place since 1975, the lakefront venue features a variety of event spaces and wedding packages, so you are sure to find the best options for you, your wedding party and your budget.
Jacaranda Hotel
From a small, family-only ceremony to a 100-guest reception, the Jacaranda Hotel's flexible spaces are a local favorite. Their wedding planning staff helps ensure your wedding prep goes smoothly, helping arrange catering and florists, setting the stage and seating, and much more. And with on-site accommodations, out-of-town guests can stay comfortably and make a weekend out of your wedding.
Circle Theatre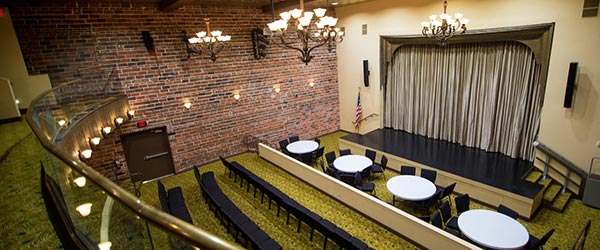 The perfect blend of history and charm, the Circle Theatre lets you host your special day in historic Downtown Sebring. Opening its doors in 1923, this venue is part of the fabric of what makes Sebring one of a kind. Choosing this venue ensures your wedding will also be unlike any other.
Island View Restaurant
Comfortable yet refined, Island View Restaurant has made a name for itself for being a highly attentive, no-detail-spared partner to couples looking for a wedding venue. Choose from a private banquet room or a lakeside patio to make your day as perfect as possible, with world-class catering across the board.
Florida Barn Weddings & Events
Surrounded by 120 acres of green pastures and ranchland, Florida Barn Weddings and Events specializes in blending the rustic farm aesthetic with elegant touches that elevate any event. Get ready for an unforgettable day in air-conditioned dressing rooms and restrooms, then recite your vows overlooking nature. The space offers ample seating and plenty of room for a dance floor to close out the night. 
There are countless moving parts when planning a wedding that lives up to what you've dreamed of for years or even decades. Choosing the perfect wedding venue is the first and one of the most important steps in doing just that. Luckily, the options are plenty in Sebring, Lake Placid and Avon Park, all centrally located just an hour and a half outside of Orlando and Tampa. Find your happily ever after with us.