Unique Hotels in Sebring: From Trackside to Lakeside
Where to Stay During Your Visit
Now that you've picked Sebring as your vacation destination, get to know a few of the most unique hotels in Sebring and its surrounding cities to make your stay even more memorable. Whether you're planning a family trip or a romantic retreat, you're sure to find the perfect place to stay. From quaint quarters to contemporary suites, the Sebring area doesn't disappoint.
The Hotel Jacaranda – The Historic Hotel
At a Glance
Rooms starting at $59 per night
Guest Rating: 4.4 stars
Amenities and Special Features: Historic elegance, complimentary breakfast
Since its opening in 1926, The Hotel Jacaranda has made its mark on the quaint town of Avon Park. Nicknamed the Gracious Lady, The Jacaranda will add a touch of antiquity and uniqueness to your Sebring area vacation. Experience this piece of living history, all while enjoying updated amenities and features during your stay.
Start your day with a trip to Maxwell Groves to buy souvenirs for family and friends, then head over to the Alan Jay Wildstein Center for Performing Arts to catch a show. Guests can also tour the South Florida State College Museum of Florida Art and Culture.
After you've enjoyed the surrounding area, return to your quiet oasis for dinner. A feast of soup, salad, dinner, dessert and a drink all for $12 can't be beat. There is also a buffet option, perfect for families or groups for events. Before going to your room for the night, take advantage of the spiral staircase near the pool and the gazebo across the street for photo ops. Plus, if you're visiting during the holidays, don't miss the exquisite decorations adorning the hotel grounds from November to January.
Inn on the Lakes – The Hidden Gem
At a Glance
Rooms starting at $79 per night
Guest Rating: 4.5 stars
Amenities and Special Features: Mediterranean boutique hotel, gourmet pet room service
For recently renovated suites and breakfast included with your stay, check out the Inn on the Lakes. With luxury, upscale features and a beautiful pool area, Inn on the Lakes is the perfect fit for travelers in need of a much-deserved break.
This lakefront property exudes comfort and seclusion, yet is situated in the heart of the city. On arrival, guests are greeted by a cozy fireplace, contributing to the hotel's homey feel. Once you've settled in your home away from home, walk through the outdoor garden area or take the kids to Lake Jackson on a scavenger hunt for a quick adventure. You can also practice your swing on one of the many lush golf courses on Sebring's Citrus Golf Trail with custom golf packages and courses ranging from novice to expert levels.
Plan an evening at the Inn and dine in grandeur at the Chicanes Restaurant and Bar overlooking the lake. With menu options such as bistro entrees, burgers, and salads, there is something for everyone to enjoy.
At Inn on the Lakes, four-legged friends are more than welcome. Cats and dogs have the opportunity to be pampered as well with gourmet pet room service.
Seven Sebring Raceway Hotel – The Trackside Luxury
At a Glance
Rooms starting at $77 per night
Guest Rating: 4.2 stars
Amenities and Special Features: Overlook Sebring International Raceway, private balcony or patio
In search of a luxurious location? Overlooking the Sebring International Raceway, the Seven Sebring Raceway Hotel and conference center is an excellent choice. Beautiful landscaping complete with modern interior décor is sure to relax and rejuvenate you during your stay.
When you're not enjoying trackside race views from the comfort of your suite's balcony, there are plenty of other onsite activities to keep you entertained. Whether you decide to sit poolside, visit the Hairpin Lounge for a cocktail or the Apex at Seven Restaurant for a bite to eat, there is always something to do. Unwind in the Seven Hotel Spa with a facial, massage, waxing, exfoliation, or other spa treatment. After you've enjoyed some R&R, order as you like at the lounge's bar with endless drink options (rumor has it, they make a mean mojito). The Apex at Seven Restaurant has delicious breakfast and lunch classics as well premium dinner options including shrimp, an array of pasta dishes and filet mignon.
When venturing out with the family, adventure awaits on the hiking trails or fishing spots nearby. Or if you're looking for a more leisurely day, shop historic downtown Sebring.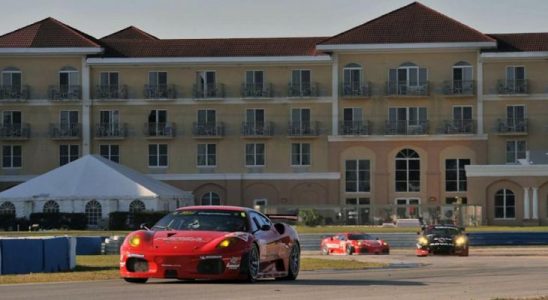 Lake Blue Resort – The Lakeside Retreat
At a Glance
Rates adhere to rate schedule
Guest Rating: 4.4 stars
Amenities and Special Features: Lake views, perfect for reunions and retreats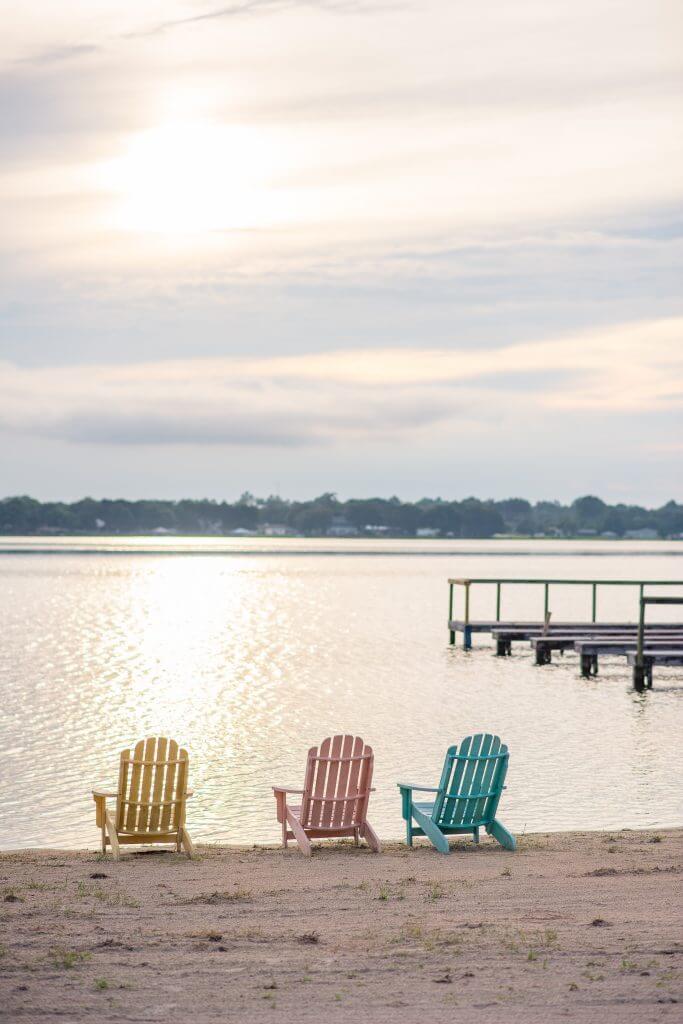 Located in Lake Placid, Florida, Lake Blue Resort offers condo rentals for a serene family vacation. With its dock situated on Lake Clay, there is water fun for all, whether it is a weekend getaway for just you and the kids, or a family reunion destination.
For a gorgeous start to your morning, catch the sunrise while boating on the lake. Head out on the water with your paddleboard, or lounge dockside with a cup of coffee, and watch the little ones soak up the sun. Tubing and canoes are another option when you need to cool down from the Florida heat. More of the angler type? Bring your fishing gear to catch and cook your dinner on-site. If you're hosting a large event, or just want to spend more time relaxing, Lake Blue Resort also offers on-site catering for breakfast, lunch, and dinner.
As expected, Lake Placid is home to several other lakes to be explored. Lake McCoy, Lake Pearl, Lake Sirena and the beautiful Lake June in Winter Scrub State Park are all a short drive away. For a change of pace, take a stroll in downtown Lake Placid to see the nearly 50 outdoor murals that paint the town and tell visitors about this area's history.
Visit our Accommodations page for additional unique hotels, resorts, and more.