Sebring Soda Fest Announces Celebrity Mixologist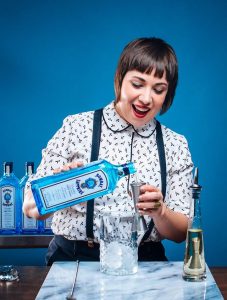 SEBRING, Fla. (Feb. 6, 2018) – The Sebring Soda Festival (April 6-7) is proud to announce Brenda Terry, an award-winning cocktail artist known for her passion behind the bar and her mix of imaginative, aromatic and balanced cocktails, will serve as the Celebrity Mixologist at the festival's Pop & Fizz Cocktail Tasting & Pairing Party on April 7 from 6-9 PM.
Originally introduced to the craft scene while living in New York City, Brenda worked in coveted Foodie Centric Brooklyn establishments, such as Berlyn and Prime Meats. It was during this time that her love for alchemy and cocktail creation began to bloom.
"They let me play behind the bar during the day when it was quiet. I asked a lot of questions. At night, I used to watch the bartenders pump out cocktails in high volume as though it was a simple task for them as they danced and laughed with each shake and stir," she said. "Then and there, I fell in love with the bartender."
From fashioning classic tipples to creating original recipes, she has created one-of-a-kind libations for various U.S. and International bars, restaurants and brands. Including:
Ciro's, Le Meridien, The Straz Center for the Performing Arts, Art with a Twist for the Chihuly Collection, The Tampa Yacht Country Club (FL)
Barleycorn (NC)
Tullamore Dew (Ireland), Chartreuse (France), Bombay Sapphire (UK), Domaine de Canton
(France), Elijah Craig (USA)
Brenda enjoys the challenge of competing in cocktail competitions and has entered events at both regional and national levels earning the following titles:
Heaven Hill's Bartender of the Year Regional Winner | 2017
Bombay Sapphire's Most Imaginative Bartender Award, Southeast Regional Winner & North American Finalist | 2015, 2016, 2017
Espolon Tequila's Cocktail Fight Champion & National Finalist | 2016
Best Cocktail in the Bay, Art With a Twist | 2014
Certain tastes, smells and sights bring us back to our childhood, and soda pop is often one of those tastes that brings along fond memories. Cooling off on a hot summer day with a root beer float, or a sharing a cola at the drug store fountain with friends, are the types of nostalgic moments you'll be transported back to at the Sebring Soda Festival. This new and exciting event is a unique opportunity to showcase the small town feel of the beautiful downtown Sebring area while promoting a family-friendly event that everyone can enjoy. With hundreds of craft sodas available for sampling (such as Ramblin' Butterscotch, Cicero Peach Cobbler, Mr. Q Cucumber and Mo's Mint Julep), along with a classic car show, live entertainment, art and craft vendors, pop-up retail storefronts, a variety of food options, kids zone, and more, we will bring back vintage fun for all ages.
The event will kick off on Friday, April 6 with a Rockin' 50s Block Party from 5-8 PM which will be family friendly and free to attend. The Soda Fest will take place from 10AM-6 PM on Saturday, April 7 with live entertainment, a Kids Zone, classic car show and more. It is free to attend and tasting tickets will be available to purchase soda samplings. To complete the festivities, the Pop & Fizz Cocktail Tasting & Pairing Party (adults only) will feature Celebrity Mixologist Brenda Terry presenting special soda-based cocktails with culinary pairings. Tickets are on sale for this event and are limited.
All event details, including information on tickets, vendor space, volunteers and sponsors, can be found at SebringSodaFest.com.