Indiana Golfers Enjoy Their Favorite Sport While Benefiting SFSC Athletics Program
AVON PARK, Fla. – Feb. 1, 2021 – During the South Florida State College (SFSC) Foundation's fourth annual Million Dollar Hole-in-One Golf Shootout in January, two of the three finalists were from Indiana—top scorer, Steve Sortore, and third-ranked, Tom Kestler. In fact, they are members of a group who golf together in southern Indiana and have participated in the Foundation's Golf Shootout every year since its inception in 2018.
"In the first and second years of the Golf Shootout, Tom Kestler, Jeff Burnett, and I participated," Jeff Taylor said. This year, Kestler, Burnett, and Taylor were joined by Sortore and Jeff Polen.
Kestler, Burnett, Taylor, Sortore, and Polen regularly golf with 20 to 30 others at a golf course close to their homes in Indiana. "We go on a golf trip to Orlando in March and we go to Tennessee in October," Taylor said.
The first year that members of the group participated in the Golf Shootout, Burnett and Taylor were planning a trip to Orlando to golf over a long weekend. Kestler, who lives in Avon Park six months out of the year, posted on Facebook that the SFSC Foundation was holding the Million Dollar Hole-in-One Golf Shootout and invited Burnett and Taylor to stay at his house.
"So, that's where it started," Taylor said. "We look forward to it every year now—getting away from the cold, having fun playing golf, and having fun at the Shootout. Those of us from Indiana have a little competition between us, and everybody at the Shootout is so friendly and nice. It makes it worth getting down here every year."
During his six months in Highlands County, Kestler has become an avid fan of the SFSC Panther baseball team and, frequently, attends games on the College's Highlands Campus. In fact, he played baseball in his youth and had a tryout with the Cincinnati Reds baseball team. Last year, Kestler asked Jamie Bateman, SFSC's executive director of institutional advancement who oversees the SFSC Foundation, if she could get him a Panther baseball jersey. Although the jerseys are only available to Panther baseball players, Bateman secured other College apparel for Kestler. As a thank you to Bateman and to SFSC, Kestler made a donation to the SFSC Foundation.
The rest of the year, Kestler lives near the Indianapolis Speedway in Indianapolis. "His house is nicknamed 'The Race House,'" Taylor said. "They're right next to the track and they have lots of race memorabilia. Tom, actually, works at the golf course at the track as well."
The group of Indiana players intend to participate in future Golf Shootouts, and Taylor looks forward to winning the $1 million at some point. "Sooner or later," he said. "I'm hoping sooner, because I'm ready for it. But the bigger thing is that we all love the Shootout. It's a good cause—it benefits SFSC's athletes and the College. Plus, it's warm weather. You get away, you get some sunshine and a break from the Indiana winter. You get to enjoy good people and have a good time. We get in as much golf as we can in the meantime."
Taylor and the other four golfers are members of the Crown's Golf Group in Indiana. The organization has 200 members, each pay $40 annual dues, and they play scrambles once a month. Taylor is, currently, on the board of the Crown's Golf Group. "The organization started with a bunch of friends who got together to play golf but wanted to make a difference and make some money to give to charity," he said.
Every year, members of the Crown's Golf Group take 12 to 15 families in need or have children with special needs Christmas shopping. "During the year, we raise money and find sponsors to donate as well," Taylor said. "Normally, we have $6,000 to $8,000 by Christmastime. We love to play golf, but we also do things to help other people. It's a great feeling. All the guys are involved in that, and it's a way we can do something like this—helping the College and helping someone else by doing something we love to do."
"Our Indiana golf friends, who started as a group of three, have participated in this event from year one," Bateman said. "It is becoming quite the tradition to have them with us as contestants on Shootout Sunday every year! We are blown away that they coordinate their Florida golf vacation around our event each year, and we are so grateful for their continued support of the SFSC Foundation and our Panther Athletics program.  We look forward to seeing these guys and the growing support of our Indiana friends coming down to participate in the Million Dollar Hole-in-One Golf Shootout each year."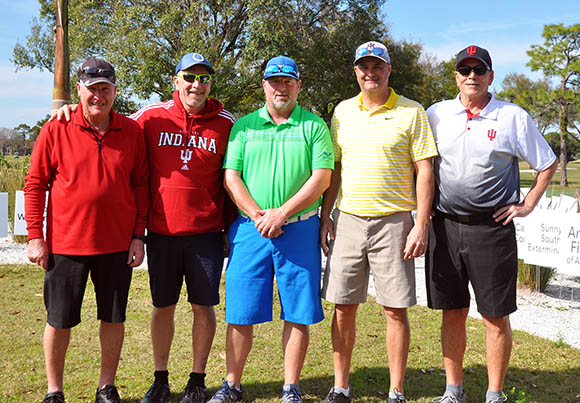 Jeff Burnett (left), Jeff Polen, Jeff Taylor, Steve Sortore, and Tom Kestler.