Best Restaurants Off the Beaten Path in Sebring
Cruising along Highway 27 can stir up an appetite with the sight of restaurants along the way. But dive into the heart of Sebring and its neighboring cities of Avon Park and Lake Placid to discover more than what meets the eye from the bustling road.
From Mexican to Italian, and coming full circle to classic American, you can indulge in your favorite cuisine. Looking for fresh fare? Dive into fresh Florida seafood, caught and plated to please. With flavors sure to satisfy every taste and palate, get the full experience of Sebring's best eats off the beaten path.
Island View
This picturesque lakefront restaurant and pub doubles as a venue for everything from weddings and banquets to birthdays and more. It pairs beautiful views and elegant ambiance with a taste of American classics.
Reserve your Friday night supper at Island View for their celebrated prime rib special or go for a mango salmon filet from the sunset dinner menu, which includes your choice of entrée, alongside a glass of house wine, draft beer or soda, starting at just $12. Visit their website for current offers and hours.
Faded Bistro and Beer Garden
Locals and visitors from all around stop by Faded Bistro and Beer Garden for the charming, flower-filled gardens and beer gnomes that surround the outdoor seating.
This cozy, refined café in Sebring offers mouthwatering lunch cuisines from flatbreads to quiche and Black Angus burgers.
Choose to dine after sunset and watch the warm glow of stringed-lanterns settle in while you groove to live music, sip a drink and feast on a dinner selection ranging from tapas, fresh seafood and signature entrees.
Don Jose Mexican Restaurant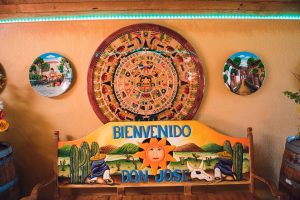 Slip away to Don Jose for a Mexico-inspired dining experience, located on Lake Jackson. The vibrant atmosphere and smell of savory dishes will be enough to spark your appetite for Mexican cuisine.
Come in and enjoy your favorite sports game at the bar or grab a table for some bonding time with loved ones. Don Jose is a family-owned restaurant that serves Mexican food favorites like enchiladas, tacos, fajitas and of course, margaritas.
Jaxson's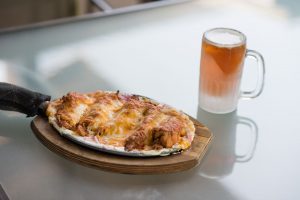 No visit to Lake Placid is complete without a visit to Jaxson's, home of the
Hookiemelt—a signature chicken tender appetizer topped with hot sauce, cheeses, onion and sour cream. This one-of-a-kind shareable dish, along with other zesty entrees, will leave your flavor palate in a frenzy.
Rated the number one restaurant in Lake Placid on Trip Advisor, Jaxson's has become a lakeside favorite that brings fresh ingredients from the farm to your table.
Good News Cafe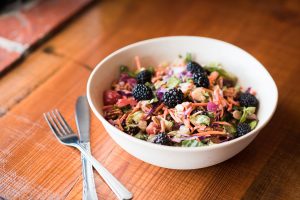 With a name stemming from the former newspaper office that once resided in its place, Good News Café will fuel your energy organically.
Quench your thirst with freshly squeezed juices and smoothies or munch on your choice of salad, sandwich or rice bowl. With vegetarian and vegan options available, this wholesome eatery caters to a wide range of customers. Don't forget to peruse the neighboring boutique, The Blueberry Patch and fulfill your shopping cravings as you await your seating.
18 East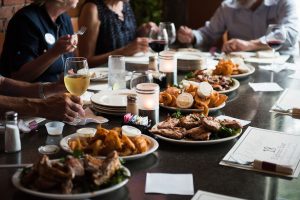 Named after its location on 18 East Main Street, this restaurant and bar resides in the historic section of downtown Avon Park.
Sit back and savor a drink while tuning into live beats of every genre from country, jazz, blues, rock and more.
Live music paired with a traditional American food selection makes 18 East a great place for an enjoyable night out on the town.
Maryland Fried Chicken
A taste of Maryland in the heart of Florida, where the finger-licking fried chicken is always known to be delicious, but never greasy. Located on Avon Park's Main Street, Maryland Fried Chicken is your go-to for all your comfort food needs.
Dee's Place
Dee's Place has brought good food with good vibes for over 20 years in the Sebring area. This family-owned diner not only brings passion to food, but also to music. From monthly gospel dinner concerts to the year-round tunes of contemporary Christian bands, you're sure to enjoy more than just the homestyle flavors of fried chicken and country fried steak at this popular lunch spot.
A world-class racetrack, a wealth of nature activities and a touch of charm will fill your heart with the areas' specialties. But when it comes to dining, you'll explore Sebring and its neighboring cities in a new light. Are you ready to enliven your taste buds during your visit to Sebring?