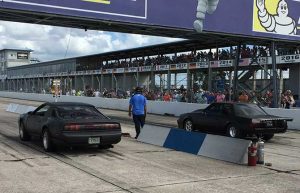 Sebring International Raceway's legendary concrete front straight will come to life on select Thursday nights this year with street drag racing.
March 29, April 12, April 26, May 10, May 24, September 27, October 11, October 25, November 15, and December 6.
The 2018 Sebring Drag Racing schedule includes dates through May 24th, followed by a summer break. Drag racing resumes on September 27th and concludes on December 6th.
All drag racing will take place on Thursday evening. Gates will open at 5 pm and drivers can make all the runs they can fit into a four-hour window ending at 10 pm.
Admission will be $20 for drivers and $5 for spectators. Drivers must be at least 18 years of age with a valid driver's license. Cars must be street legal with street legal tires, free of any leaks, equipped with proper seat belts and free of any unsecured items inside the vehicle.
"Sebring's front straight is an ideal venue for drag racing," stated Sebring Raceway President & General Manager Wayne Estes. "Our Thursday drag racing program will offer enthusiasts an opportunity to compete in a controlled environment with maximum on track time."